Beginning from the prompt "Design a responsive website for a local florist", as UX designer I conducted all the phases of the design process.
Based on the primarily research, 

users like

 to gift customized bouquet based on the addresser characteristics. They also like receiving advice 

from the florist about creating bouquet but they are annoyed by the waiting time until their bouquet is ready. Moreover sometimes bouquet doesn't satisfy their expectations.
The goal was to create 

a responsive website that allow users to order a bouquet giving them the possibility to pick it up or delivery at home option.
During the emphasize process, I came out with the following persona.
My goal was to make a strategic information architecture decisions that would improve overall website navigation. The structure that I chose was designed to make this simple and easy.
After sketching out some wireframes 
and thinking through the preliminary flow, I created a lo-fi prototype to use for a first usability study and understanding what needed to be improved.​​​​​​​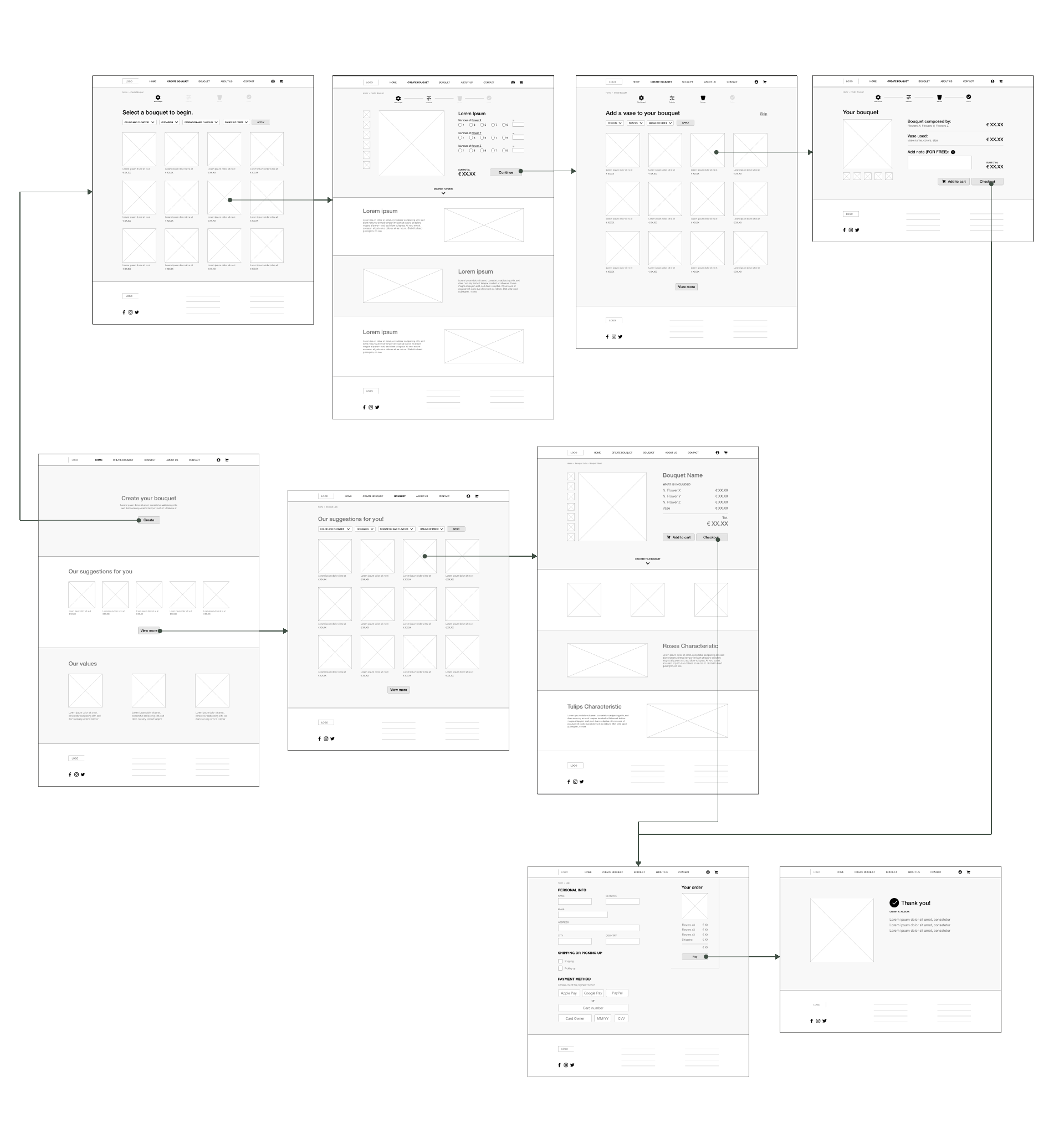 DESIGN FOR DIFFERENT SCREEN SIZES
Basing on the initial research on users' needs, I decided to create a mobile version of the website to give people the possibility to order bouquet also when they don't have a laptop with them.
During the 4 usability tests, I asked 4 different participants to run through the main flow in my desktop lo-fi prototype in hope garnering enough feedback to use for our next set of design iterations. I came across the following insights:
I refined the design and created a hi-fi prototype of the website which 
presented cleaner user flows for creating a customized bouquet, paying, adding to the cart a ready-to-buy bouquet, visiting about us and contact pages.
In order to make the website as accessible as possible, I have made the following considerations:
- I u

sed icons to help make navigation easier; 
- I adapted texts size to the different devices;
- I changed colors after analyzed them with a plugin to check contrast.
I learned that users' needs help you a lot to come up with design ideas. After the preliminary interviews, and having figured out all the pain points, you're able to find the best solutions for the problems.