I created this project for the Google UX design Certificare Course. Beginning from the prompt "Design an app to reserve a seat at the movie theater", as UX designer I conducted all the phases of the design process.
Based on the research, people with a frenetic life and busy schedule don't have enough time to spend on the line to get a ticket. Moreover, after spending several time on the line, they don't find enough available seats and lastly they have to wait a lot until the movie begin. 
The goal is to create an app to reserve a seat in an easy and fast way that achieves all the pain points written above.
During the emphasize process, I came out with the following personas:
OCCUPATION:
Full time student
Francesca is a full time student at Medicine University and her dream is to become a doctor. She spends the major part of her days studying for the large number of exams that she has to sit. She is a very lazy person.
Only sometimes, during hew free time, she goes to the cinema with her best friend to watch new horror movies. She is very practice with technology and she ordinary uses his smartphone and laptop to study, surfing on internet and using social media.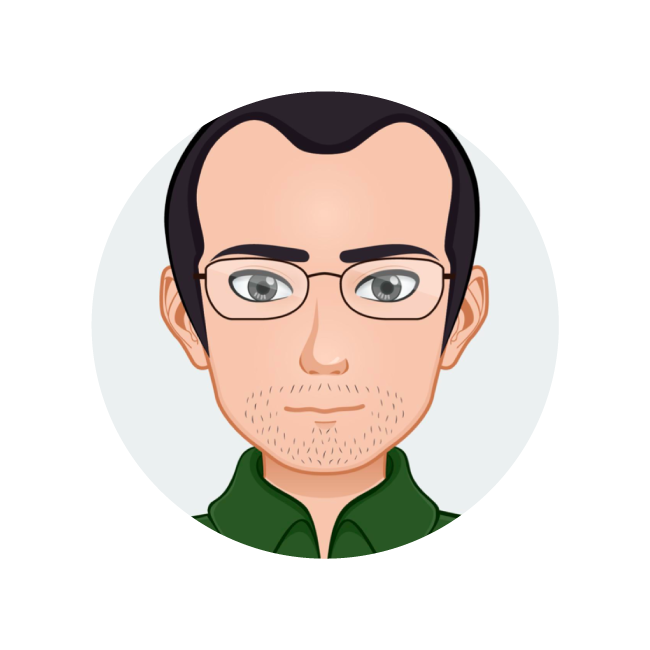 OCCUPATION:
Business owner
Stefano is the owner of a metallurgic factory famous in his hometown. This activity makes him moving around the country for several industry fears and events. During his free time he love to spend time with his family pursuing his passion for movies. He started to use technology late during his life and sometimes he has to ask for help to his children or wife. He is a very organized person and he schedule any hour of his life to guarantee his presence to everyone and for everything.
I constructed a user flow of what a journey looks like while reserving a seat and snacks. This helps me in understanding ways users can interact with the product, as well as allowing me to see navigation through user goals.
After sketching out some wireframes and thinking through the preliminary flow, I created a lo-fi prototype to use for a first usability study and understanding what needed to be improved.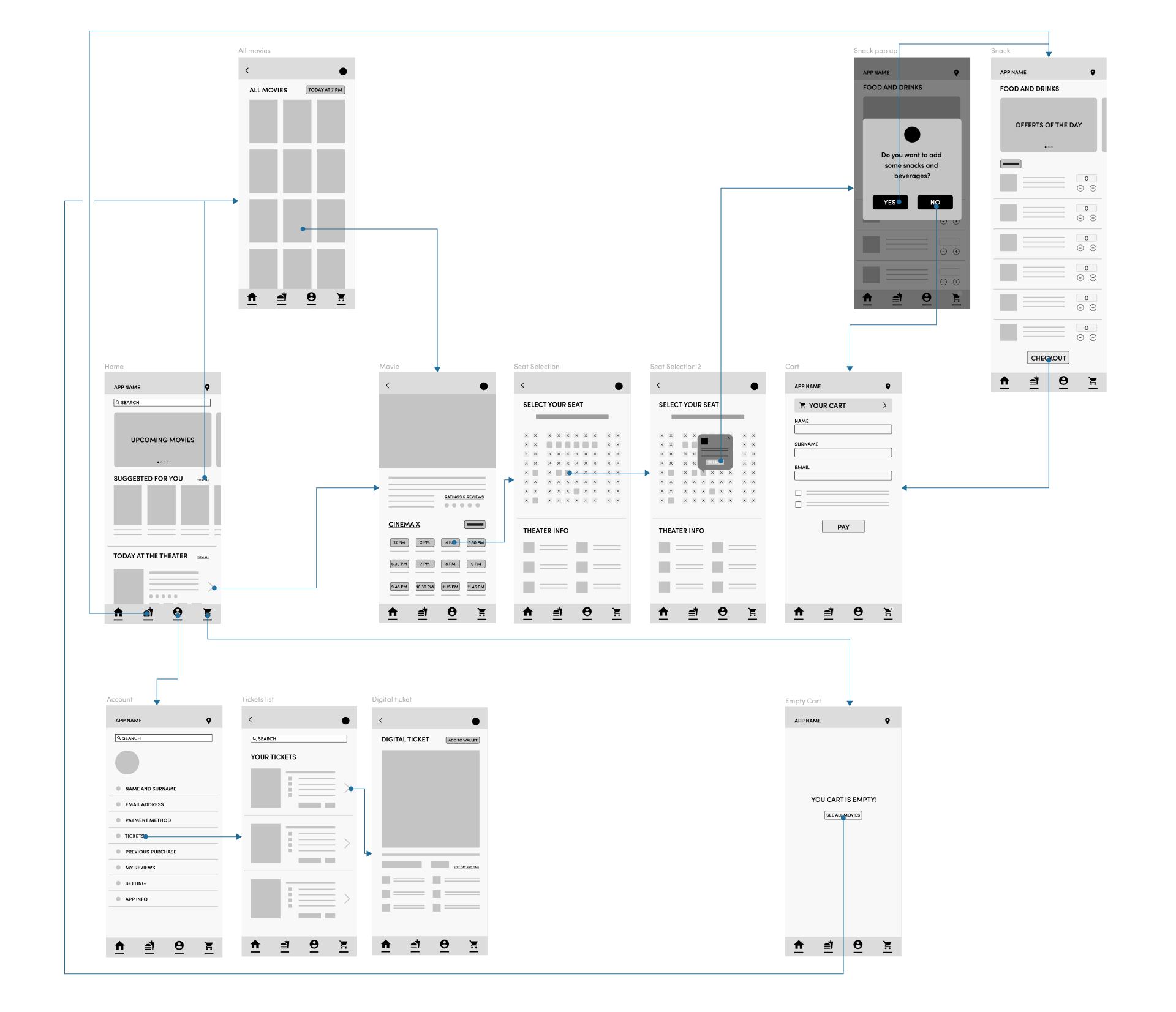 I scheduled 5 usability tests where I asked 5 different participants to run through different scenarios in my lo-fi prototype in hope garnering enough feedback to use for our next set of design iterations. I came across the following insights.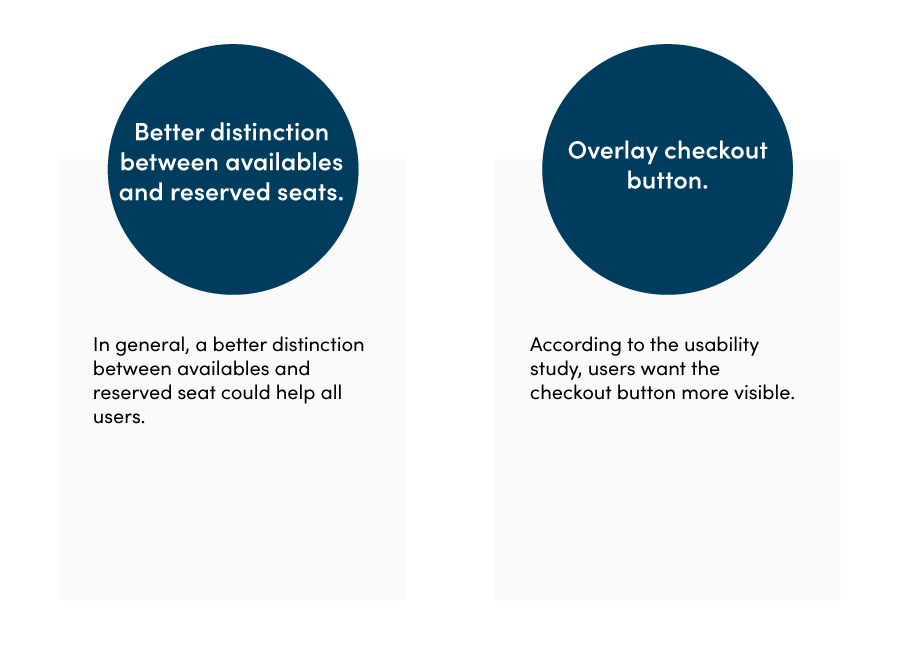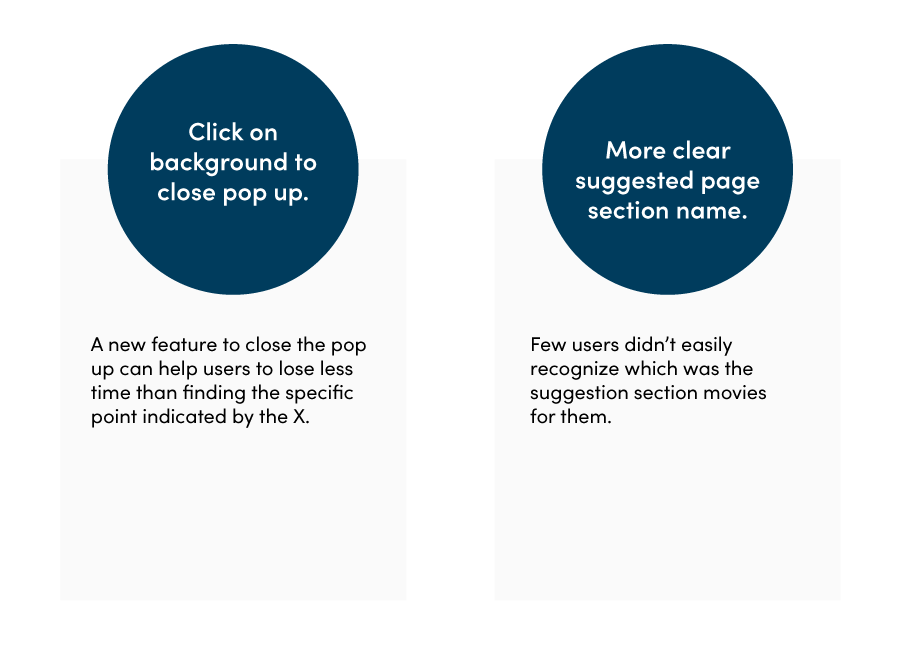 Basing on the first insights, I refined the design and created a hi-fi prototype of the app, conducted another usability study and worked on the last design version.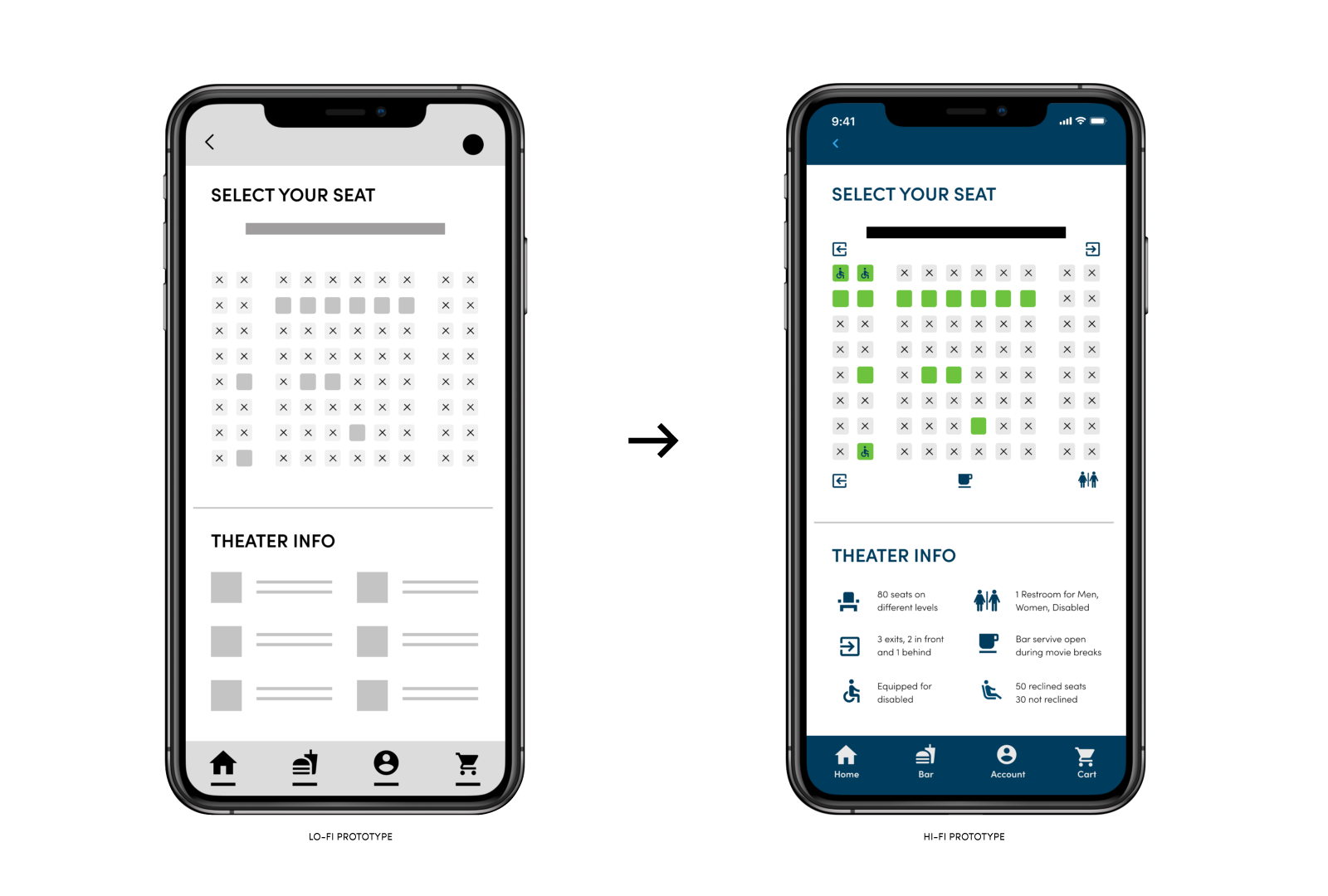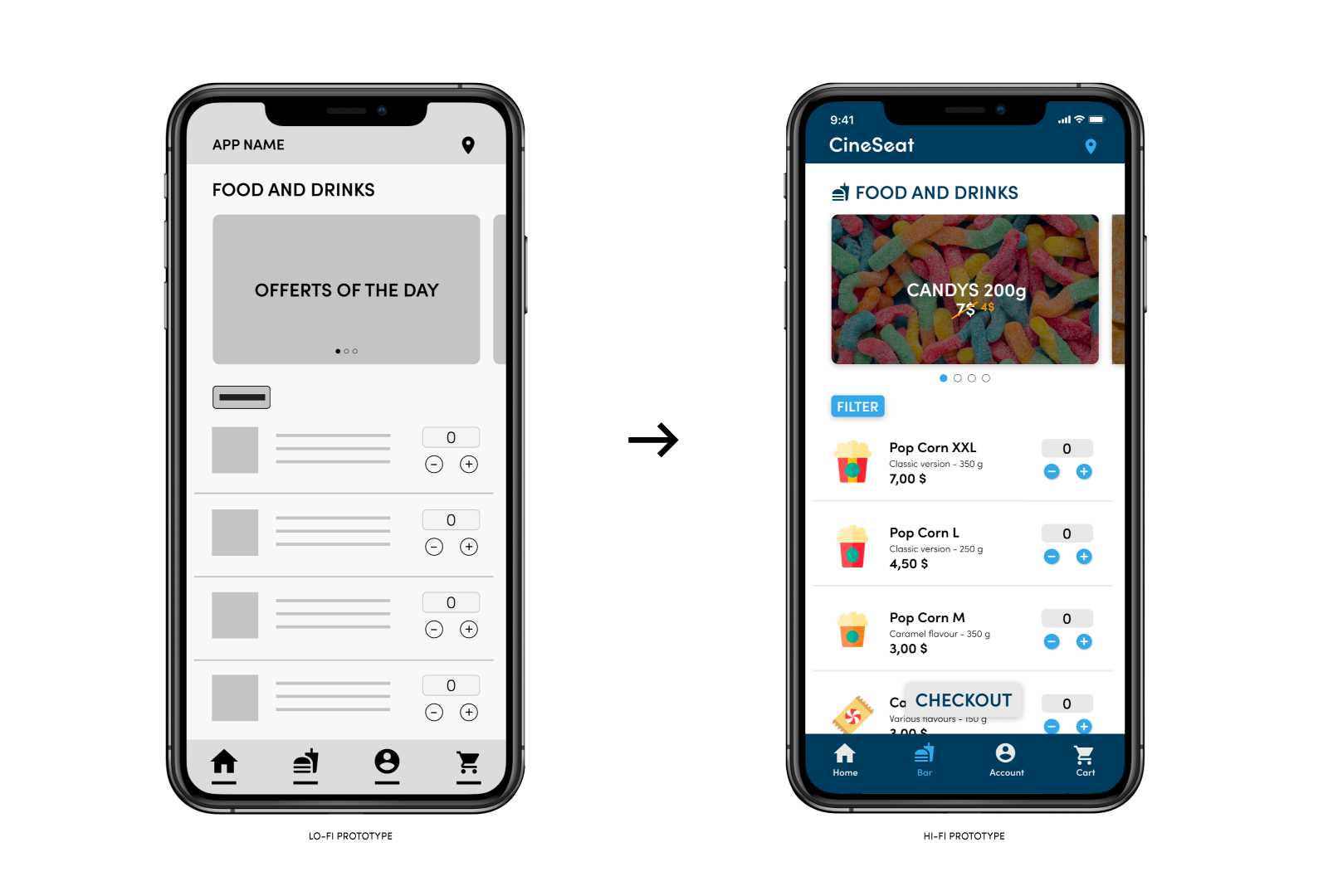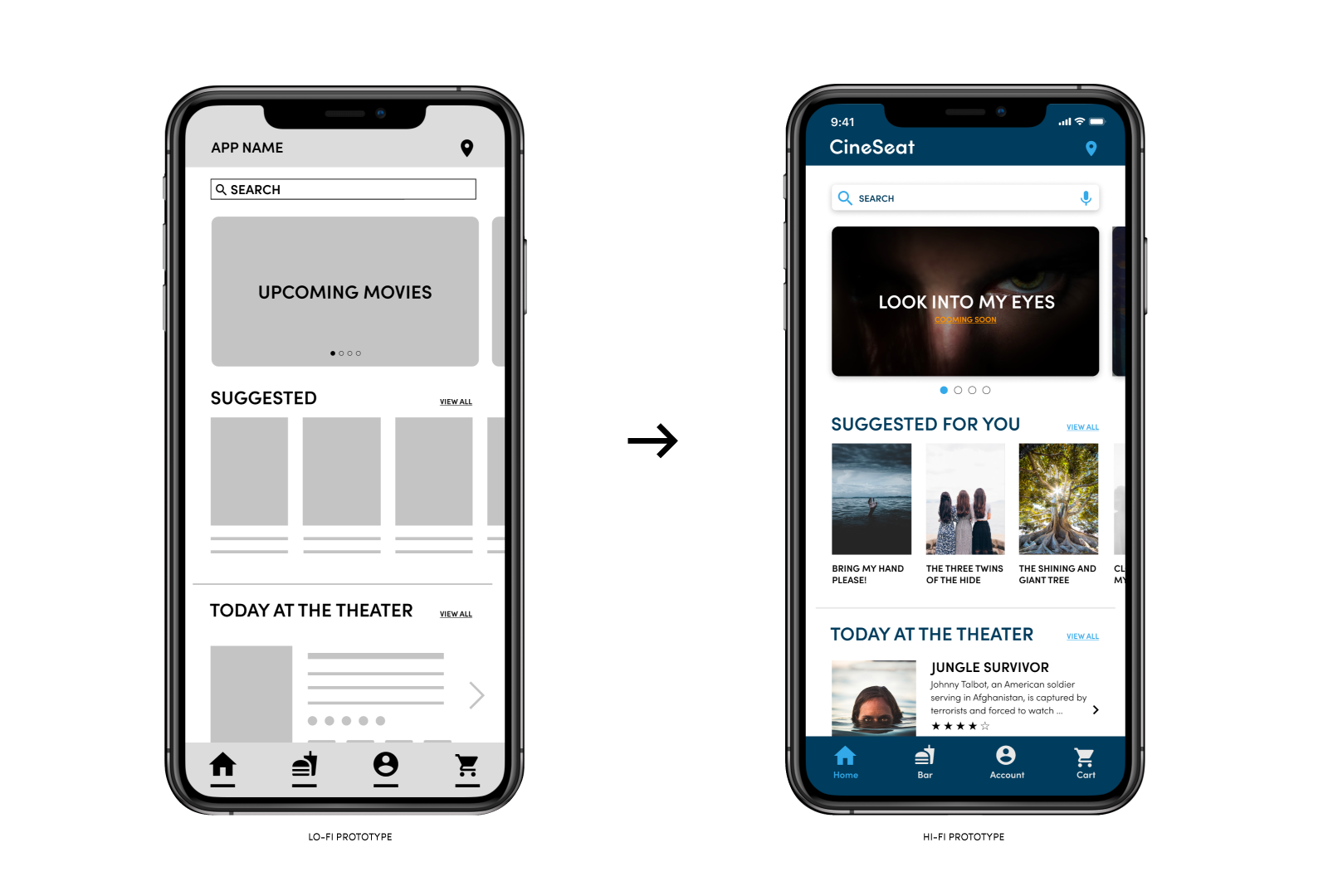 In order to make the application as accessible as possible, I have made the following considerations
- I u

sed icons to help make navigation easier; 
- I increased the size and changed the position of the selecting seat pop up to allow users click on the button, also while they're using just one hand; 
- I changed colors after analyzed them with a plugin to check contrast
As graphic and visual designer expert I've to say that, while I was designing my first app called CineSeat, I realized that appeal is just a really small part of a design process. User needs, pain points, accessibility ,and many other points, are what make the difference between a weak product and a well designed one that helps user to spend a great experience.